SOUND & DESIGN

PERFORM IN UNISON
OUR VISION
ELEGANCE MEETS FUNCTION
SOUND & DESIGN
PERFORM IN UNISON
REPLACEMENT TOP PLATE SERVICE
NOW AVAILABLE
Speaker Stands
The Elegant, iconic Tri-Leg Speaker Stand range offers stands for all listening situations, improving acoustic performance and ensuring your speakers reference point is in the optimum position for your listening pleasure.
View Collections
Isolation Plinths
Pelican Isolation Plinth Range - Isolation Plinths in many sizes and materials to suit all situations. Improving the sound quality of numerous audio components such as turntables, power amplifiers and CD players, isolating for a crisper sound.
View Collection
Speaker Wall Brackets
Showstopping Woodpecker speaker wall bracket. A beautiful, adaptable solution for wall mounting and Isolating your speakers, allowing them to perform at there acoustic optimum.
View Collection
HiFi Racks
A specialised centerpiece crafted from beautifully selected solid hardwoods. Old or new our HiFi Racks will upgrade the sonic performance of your audio equipment, designed to bring elegance and function that will support, isolate and compliment.
View Collection
Equipment wall brackets
Raising your Hi-Fi equipment to another level. Our Audio Equipment Platforms offers a chic wall mounting solution for your audio equipment, providing accurate and noiseless sound, enhancing performance, and decreasing noise transmission.
View Collection
Accessories
Headphone Stands, Record Organisers, Cable raisers and many other products to enhance your listening experience.
View Collection
REPLACEMENT TOP PLATE & LEGS SERVICE
Future proof your speaker stands with our Replacement Top Plate & Legs service, whether you're changing your speakers now, or in 5 years, this service ensures your current set of stands can be always re-purposed. 

VIEW COLLECTION
The Details
Speaker Spikes
All Speaker Stands supplied with solid brass speaker spikes and feet to ensure audio clarity and crispness.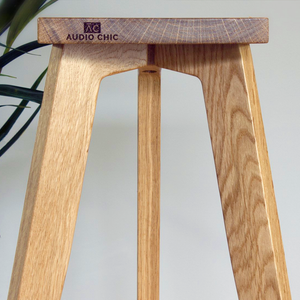 Tri-Leg
The Eye Catching Tri-Leg design has been especially designed to be Elegant and Functional.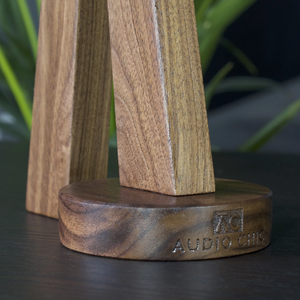 Wide Range
All items made by hand by trained crafstmen and women in the Audio Chic workshop, using only top quality materials.
Audio Chic in the media.
Read what the most influential publications in the media have to say about Audio Chic in various recent press features.
View All